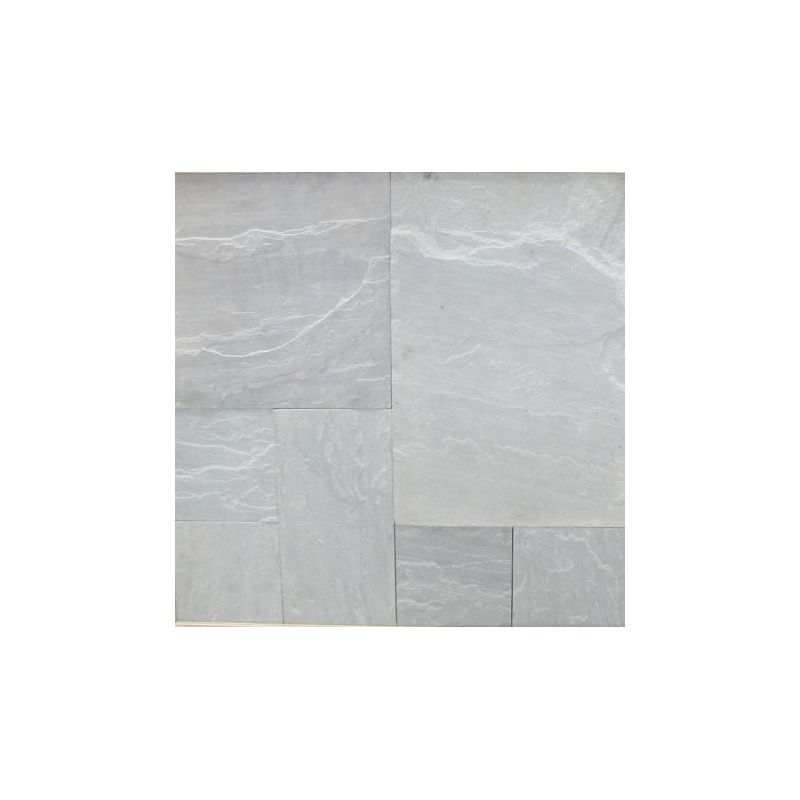  
Kandla Grey Indian Sandstone
Traditional Kandla Grey Indian sandstone paving slabs.
PER METRE²
Transform your garden with these breath-taking, traditional Kandla Grey Indian sandstone paving slabs. This stunning natural Indian material is one of the most popular choices of paving stones in the UK, and it's clear to see why, with its beautifully modern look and weather-resistant properties.
The stone is hand-cut to give a riven surface and is extremely low maintenance so you can maintain its natural appeal with ease.
Kandla Grey paving will be sure to lighten up your garden thanks to its beautifully light shades of silver-grey and light grey. Natural sandstone paving comes with a certain charm and character.
No sandstone slab is the same. They all take on their own intricacies of shades and patterns that have been formed over time making them all utterly unique and beautiful.
With these Kandla Grey Indian Sandstone Paving slabs, you can rest assured they will last the test of time, even in the ever-changing British climate. It's certainly one of the most robust, long-lasting paving stone options out there. Its beautiful riven surface also helps to retain underfoot grip and frost resistance, meaning it looks good and feels good all year round, no matter the weather.
Although recommended for exterior use, these Indian stone slabs can also be used for indoor flooring.
Key Features:
Hand Cut
Calibrated to 22mm
Natural riven finish
Available in Patio Packs
No customer reviews for the moment.
Brand: Nexus
A high strength epoxy paving grout - suitable for vehicular areas up to 3.5 tonnes.
10 other products in the same category:
Raj Green has a pallet of natural colours. PER METRE²
Yellow Limestone has beautiful range of light tones which will brighten up any exterior. PER METRE²
Feel the warmth with Autumn Brown Indian sandstone. PER METRE²
Follow the sun all year round with Modak Indian sandstone paving. PER METRE²
Blue limestone with beautiful blue colours and subtle shades of green & grey. PER METRE²
Rippon Buff Sandstone features a range of natural tones, colour variations and veining details formed over thousands of years adding an eye-catching finish to any garden or patio. PER METRE²
Rainbow Indian Sandstone is an eye-catching and durable Indian Stone. PER METRE²
A stylish, dark grey stone that turns a deep, black colour when wet. PER METRE²
Feel the warm radiance of wonderful Camel Indian Sandstone paving slabs. PER METRE²